Blackmagic Web Presenter is a complete streaming solution that includes a professional hardware streaming engine for direct streaming via Ethernet to YouTube, Facebook, Twitter and more! Plus you can stream to the internet using Ethernet or connect a 5G or 4G phone to use mobile data! The built in USB connections also work like a webcam, so you can connect a computer and use any video software. You even get a monitoring output with video, audio meters, trend graphs and more!
Connections
SDI Video Inputs
1
SDI Video Outputs
1 x loop out, 1 x monitor out.
SDI Rates
1.5G, 3G, 6G, 12G
HDMI Video Outputs
1 x monitor out
Webcam Output
1 x USB-C up to 1080p60
Ethernet
Ethernet supports 10/100/1000 BaseT for live streaming, software control and software updates.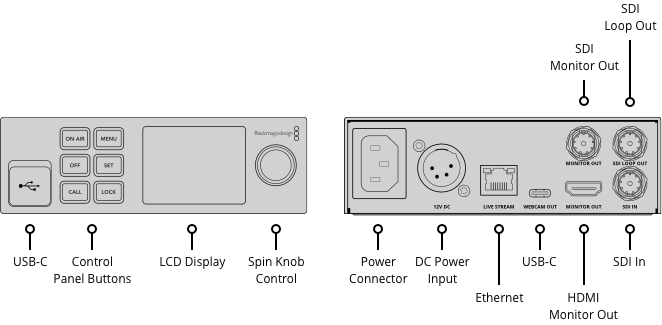 Standards
HD Video Input Standards
720p50, 720p59.94, 720p60
1080p23.98, 1080p24, 1080p25, 1080p29.97, 1080p30, 1080p50, 1080p59.94, 1080p60
1080PsF23.98, 1080PsF24, 1080PsF25, 1080PsF29.97, 1080PsF30
1080i50, 1080i59.94, 1080i60
Ultra HD Video Input Standards
2160p23.98, 2160p24, 2160p25, 2160p29.97, 2160p30, 2160p50, 2160p59.94, 2160p60
Video Input Color Space
Rec.601, Rec.709, Rec.2020
3G SDI
Auto detects SMPTE level A or B on SDI input.
SDI and HDMI Monitor Out Video Standards
1080p50, 1080p59.94, 1080p60
Video Streaming Standards
720p25, 720p30, 720p50, 720p60
1080p23.98, 1080p24, 1080p25, 1080p29.97, 1080p30, 1080p50, 1080p59.94, 1080p60
Streaming
Direct Streaming
Blackmagic Web Presenter HD supports direct live streaming over ethernet using Real Time Messaging Protocol (RTMP).
Closed Captions
Web Presenter HD supports embedding CEA-608 and CEA-708 closed captions in your live RTMP stream.
Control
Control Panel
Built in control panel with 2.2 inch color display for video preview, audio meters and status.
Device Control
Front panel, USB‑C or ethernet.
Software
Compatible Services and Software
YouTube Live, Facebook Live, Twitter, Twitch, Skype, Microsoft Teams, Open Broadcaster and Wowza Streaming Engine.
Power Requirements
Power Supply
1 x Internal 100 – 240V AC.
12V DC Input
1 x +12V DC 4‑pin XLR.
Power Usage
21 W
Environmental Specifications
Operating Temperature
0° C to 40° C (32° – 104°F)
Storage Temperature
-20° to 45° C (-4° to 113° F)